Meet Tim Stafford
Tim Stafford's post-war BMW motorcycle restorations are world-renowned for their detailed exactness and Tim's meticulous attention to details.
From his earliest days, Tim Stafford developed a love for fabrication while he explored and refined his skills in craftsmanship and artistry. As a young man, Tim was drawn to the quirky – and frequently unique – world of Vespa scooters. Because many of the available Vespas were older and often in need of repair, Tim found himself tearing them apart, fixing them and bringing them back to life with his personal flair in custom paint and bodywork. Tim had developed skills in sheet metal layout fabrication working in San Diego's shipyards.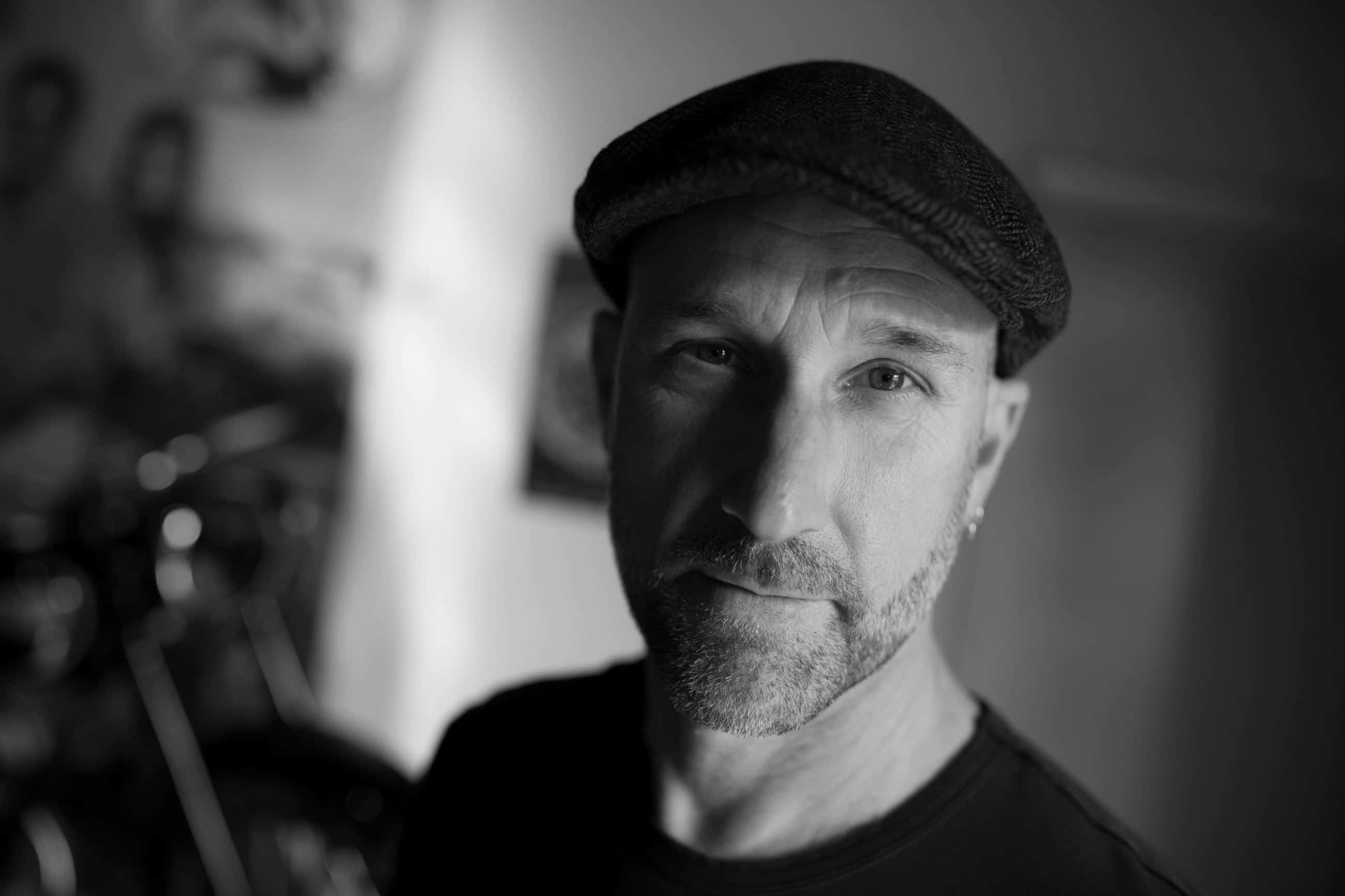 Vespa
During the 1980s, Tim found himself heavily involved in the scooter world, where he developed a successful business building race Vespas and restoring and modifying many others. His work has been featured in many publications, and his scooters had many first place finishes on the tracks. Tim's paint and bodywork skills, combined with his meticulous eye for detail, kept his shop extremely busy.
Although Tim had become a force to reckon with in the Vespa scene, his deep interest in 'quirky' things led him to a local swap meet one weekend. At the swap meet, Tim learned of a couple of old scooters – a Vespa and a Zundap – that were available nearby. To Tim's surprise, the Zundap turned out to be a 1957 200cc two-stroke motorcycle. Tim, disappointed that the Zundap wasn't a scooter, passed on the purchase. That night, he had a vivid dream about owning the Zundap motorcycle. The next day, Tim went back and purchased it for $200 and stored it in his parent's backyard.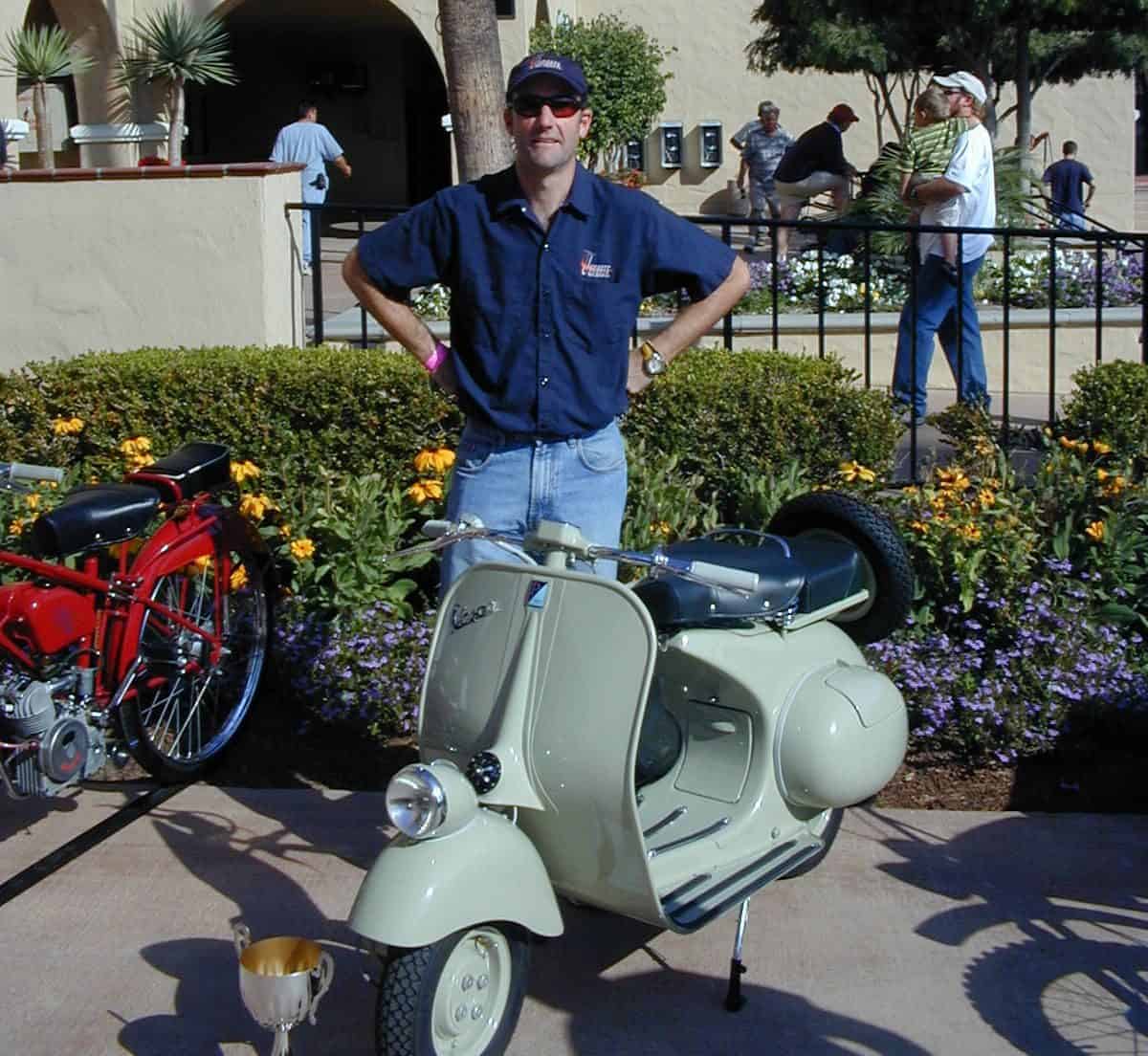 Tim Stafford with Show Winning Vespa Fenderlight
BMW
Several months later, Tim's mother visited an Estate sale in Fresno, California, that had several opposed-twin powered Zundap motorcycles that looked a lot like the Zundap in her backyard, and she mentioned these motorcycles to Tim. The motor configuration caught Tim's interest, and in a short time he found himself the owner of five additional Zundaps and two BMW motorcycles – an R50 and an R60. Tim's BMW passion was about to begin. Tim had a stable full of mid-century German motorcycles and a mind to restore them all.
The Zundap restorations began with each motorcycle being torn down and having their chrome sent out for to be re-chromed. Parts from Germany were very costly at the time, so Tim found a buyer who picked up most of the Zundap collection for a highly profitable sale price. It was shortly thereafter, that another deal was made for a running R60. This was to be Tim's first effort with a BMW restoration and the beginnings of Stafford Restorations.
(This R60 has had a fun history, having been bought and sold locally amongst Tim's friends. It was last purchased in April 2018 by one of Tim's closest friends.)
Once this R60 was sold, Tim set out to restore the two Fresno BMWs. The R50 was restored in Dover White and was traded to a delighted new owner in Los Angeles. Tim's prize in this exchange was a collection of early BMWs; an R25, R27 and an R60/2. During this time, Tim's Vespa restoration business had hit exceptional levels. His Vespas were winning shows and generating a lot of attention and buzz. Tim was restoring one BMW each year, and was starting to be told repeatedly by well-respected Vespa aficionados that his Vespa work was too good and that he needed to apply his craftsmanship and artistic capability on a more worthy vehicle.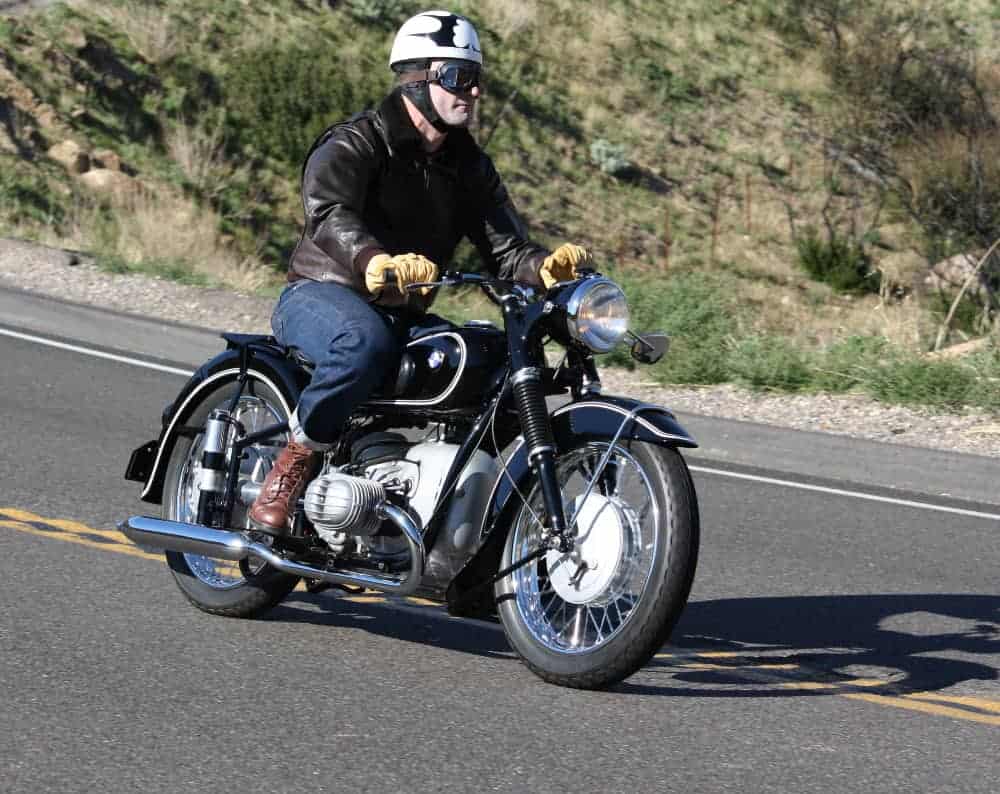 Tim Stafford Riding a R51/3, Restored for Jeff Dean
Stafford Restorations
In 2005, Tim took a 1964 R27 single-cylinder to the prestigious MidAmerica Auctions in Las Vegas, Nevada. The R27 impressed many, and sold for a handsome price. The auction was a catalyst for growth during the early years of Stafford Restorations. This R27 drew a lot of attention, but buyers wanted twin-cylinder BMWs, not the smaller single-cylinder models. Tim returned to San Diego, and went immediately back to work and restored two R50 models (one in black, and the other in Dover White), and an R51/3 for the next year's auction. All three motorcycles sold well above their reserve prices, and the Dover White R50 had an exciting bidding war, with a final sale price over $20,000.
Notable BMW enthusiast and Co-Founder of the BMW Motorcycle Owners of America, Jeff Dean, was the second place bidder on the Dover R50. Jeff and Tim became acquainted and soon after the auction became one of Stafford Restorations' most valued customers and friend. He's acquired five Stafford BMWs in the years since that 2006 auction.
Things were taking off for Stafford Restorations and their BMW restorations. The auctions generated a lot of attention, which allowed Tim to continue (and complete) his transition from Vespa work to exclusively BMW restorations. Tim found himself enjoying the challenges and discoveries working with these beautiful motorcycles. Each new restoration was a bit more refined than the last, as Tim's endless pursuit of perfection was applied.
For Tim Stafford, nothing but the absolute best work will satisfy him. He has perfected his craft in BMW motorcycle restorations, with consistent show and category wins at The Quail Motorcycle Gathering, Hanford Bike Show, El Camino Bike Show and many others. He is known worldwide for his exceptional restoration work and his unbelievable attention to the most minute detail (even the bolt heads must be correct and are restored). A Stafford Restoration BMW motorcycle is truly a work of art. It is a time capsule that very few people will have the pleasure of owning – a rite of passage for those who seek only the best and most rare examples on the planet of these wonderful German motorcycles.
We welcome your visit to the official Stafford Restorations website. Please take some time to explore, and let us know how we can serve you.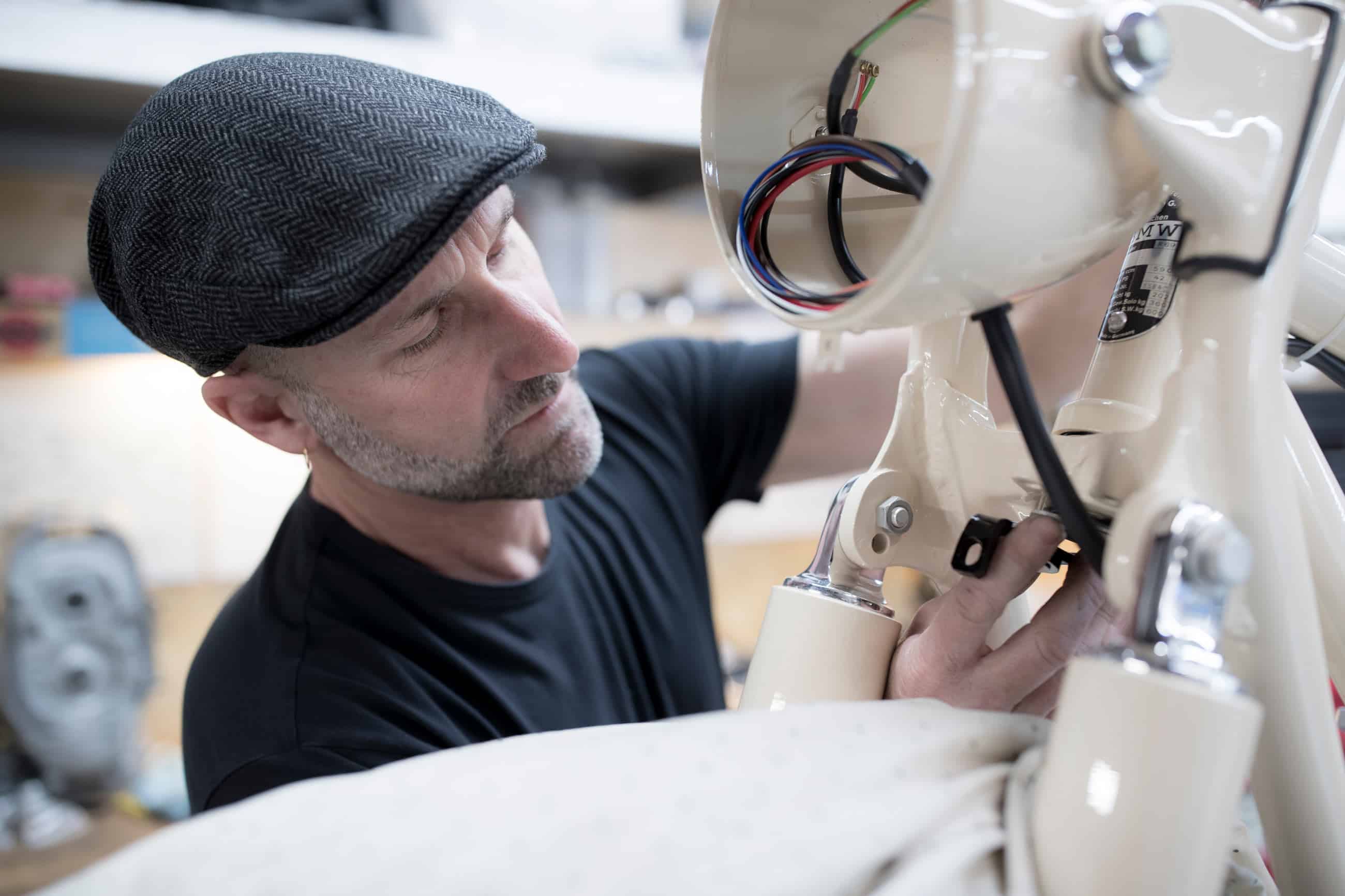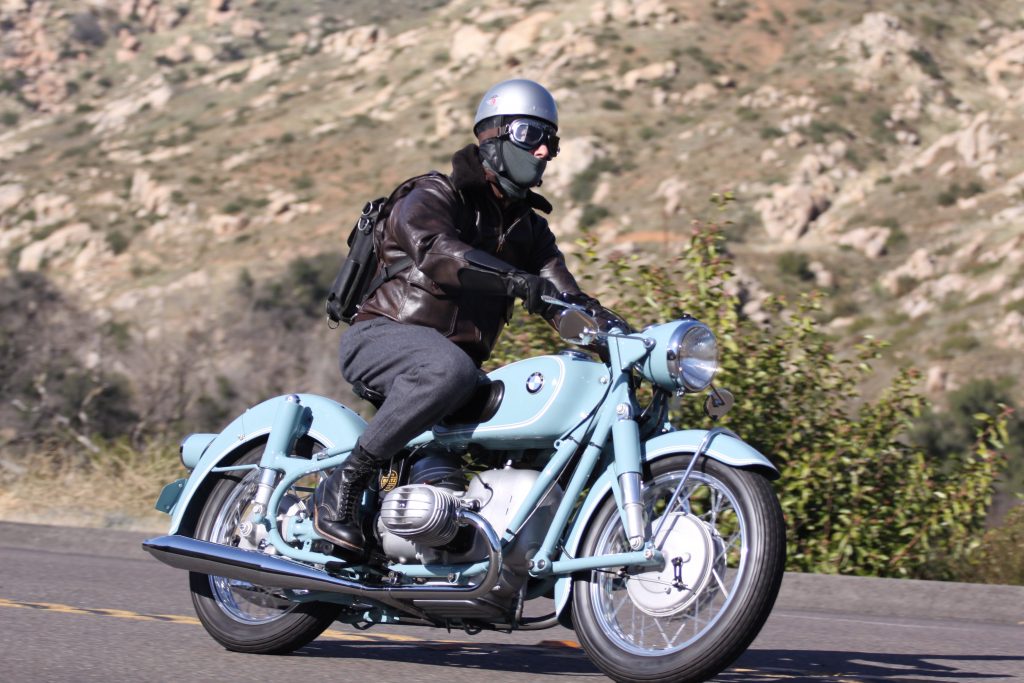 Tim Stafford Riding his China Blue #1 Restoration 1959 R50 during Mods vs Rockers. This BMW took Best of Show at The Quail Motorcycle Gathering in 2010.
Interested in owning a Stafford Restorations BMW Motorcycle?
Please contact us to get a conversation scheduled.